Description
2017 "Definitive Edition" reissue
REMASTERED 2017 AUDIO ON 180-GRAM VINYL, REMASTERED ARTWORK AND MORE
TRACKLIST
SIDE A
1. MR. SELF DESTRUCT
2. PIGGY
3. HERESY
4. MARCH OF THE PIGS
SIDE B
1. CLOSER
2. RUINER
3. THE BECOMING
SIDE C
1. I DO NOT WANT THIS
2. BIG MAN WITH A GUN
3. A WARM PLACE
4. ERASER
SIDE D
1. REPTILE
2. THE DOWNWARD SPIRAL
3. HURT
The Downward Spiral positioned Trent Reznor as industrial's own Phil Spector, painting detailed, layered soundscapes from a wide tonal palette. Not only did he fully integrated the crashing metal guitars of Broken, but several newfound elements – expanded song structures, odd time signatures, shifting arrangements filled with novel sounds, tremendous textural variety – can be traced to the influence of progressive rock.
So can the painstaking attention devoted to pacing and contrast — The Downward Spiral is full of striking sonic juxtapositions and sudden about-faces in tone, which make for a fascinating listen. More important than craft in turning Reznor into a full-fledged rock star, however, was his brooding persona. Grunge had the mainstream salivating over melodramatic angst, which had always been Reznor's stock in trade. The left-field hit "Closer" made him a postmodern shaman for the '90s, obsessed with exposing the dark side he saw behind even the most innocuous façades. In fact, his theatrics on The Downward Spiral – all the preening self-absorption and serpentine sexuality – seemed directly descended from Jim Morrison.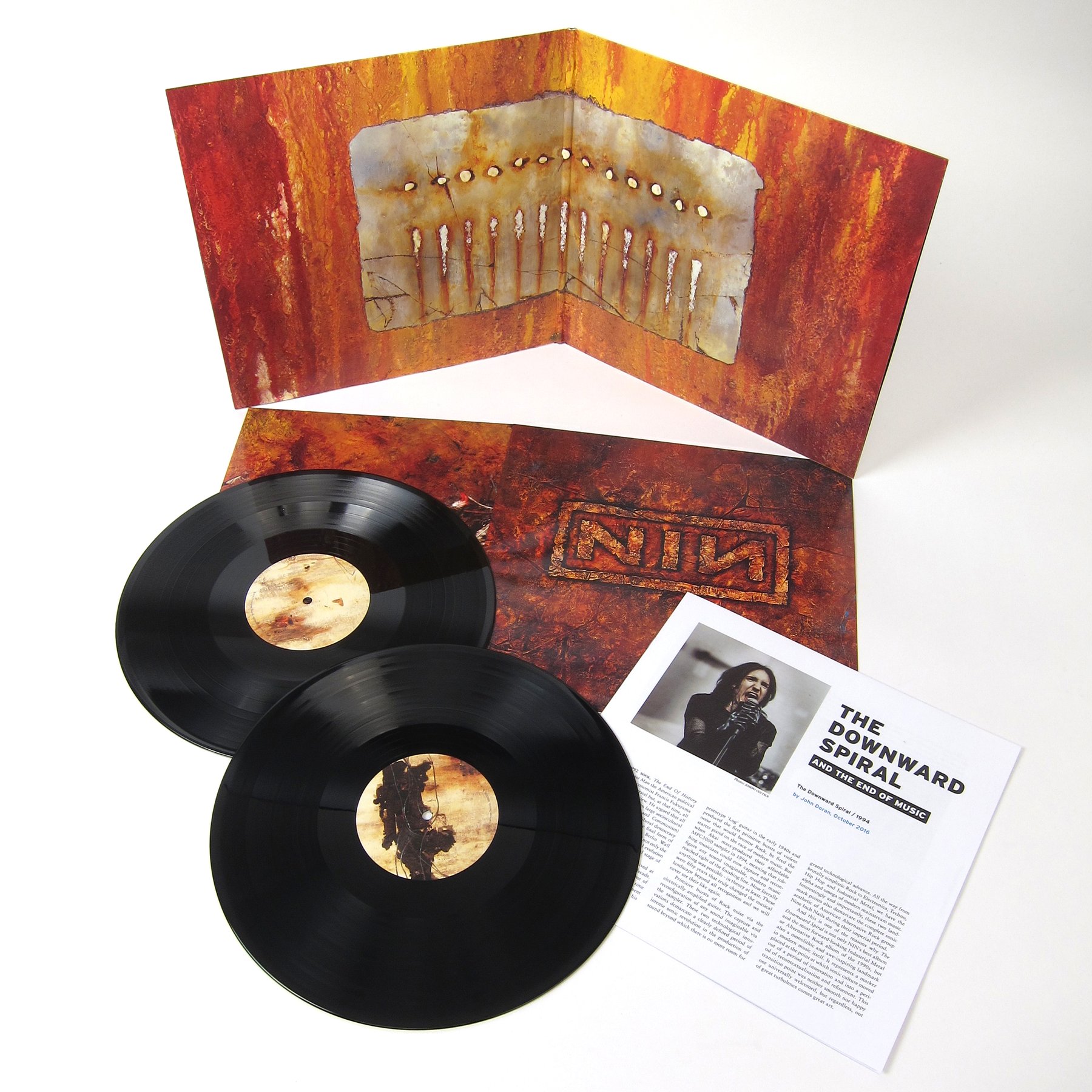 A BLEAK AND UNFLINCHING CELEBRATION OF SELF-DESTRUCTION IN THE FORM OF A CONCEPT RECORD THAT SOMEHOW MANAGED TO BECOME A MULTI-PLATINUM WORLDWIDE HIT. ONE OF THE MOST ADVENTUROUS AND EXPERIMENTAL SOUNDING RECORDS TO EVER TOP THE CHARTS.