Description
Shipping April 24, 2020
Limited vinyl box set including "De Mysteriis Dom Sathanas" one of the most important Black Metal albums in history, and 4 bonus LPs.
The album itself is remastered from the original DAT tapes.
"De Mysteriis Dom Sathanas" was released on Euronymous label "Deathlike Silence Productions" May 24th 1994
The cover art and packaging will for the first time be presented as Hellhammer originally envisioned it back in 93/94, including also the lyric scroll booklet.
Also included are four additional vinyls with stunning artwork consisting of two different rehearsal sessions in Oslo from February and May 1992, taken directly from tapes Euronymous made, the instrumental rough mix from Grieghallen June 1992, and the rough mix with vocals from the tape Attila got after the vocal recordings in April/May 1993.
The Box Set will include a 96 page book with a series of in depth interviews casting Light and Darkness on the recording process and the glory days of Mayhem making history in the early 90's.
Liner notes by Finn Håkon Rødland, Metalion, Iver Sandøy of Solslottet studio, and Maniac.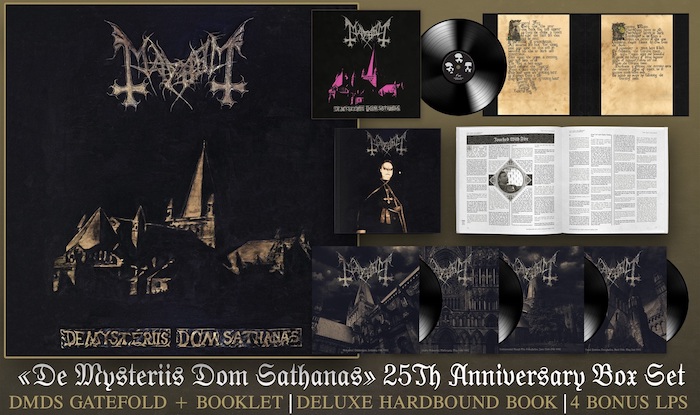 Tracklisting:
LP 1: Remastered version of "De Mysteriis Dom Sathanas"
1. Funeral Fog
2. Freezing Moon
3. Cursed In Eternity
4. Pagan Fears
5. Life Eternal
6. From The Dark Past
7. Buried By Time And Dust
8. De Mysteriis Dom Sathanas
LP 2: Rehearsal Oslo: Skippergata, February 10th, 1992
1. Buried By Time And Dust
2. Cursed In Eternity
3. Materialized In Stone
4. Life Eternal
LP 3: Studio Rehearsal Oslo: Møllergata, May 16th, 1992
1. Funeral Fog
2. Freezing Moon
3. Pagan Fears
4. Buried In Time
5. Life Eternal
6. Buried By Time And Dust
7. Cursed In Eternity
8. De Mysteriis Dom Sathanas
LP 4: Instrumental Rough Mix: Grieghallen, Bergen June 22nd-29th, 1992
1. Buried By Time And Dust
2. Pagan Fears
3. Freezing Moon
4. Funeral Fog
5. Life Eternal
6. From The Dark Past
7. Cursed In Eternity
8. De Mysteriis Dom Sathanas
LP 5: Vocal Session, Grieghallen,Bergen April 30th- May 2nd 1993
1. Cursed In Eternity
2. Pagan Fears
3. Freezing Moon
4. Funeral Fog
5. Life Eternal