The mighty Sepultura are back with their brand new album Quadra and boy is this an album with a difference. The world has been blessed with the music of these mighty giants now for thirty-five years with many believing their 1986 album Morbid Visions was a game changer when it came to the thrash genre.
Now in 2020 Sepultura have released Quadra an album that while full of original songs goes back over their career to date and seems to grab the different styles the band has presented over the years. When I had the opportunity to sit down with front-man Derrick Green and chat about Quadra he admits that was the idea that the band when into the studio with.
"A lot of times when we go into writing an album we usually like to go in a with a concept because it makes the process of writing a little bit easier," he admits. "We become more focussed when we have an objective. So when we headed into this album we were looking at it as if it was a double album – so there was a Side A, a Side B, a Side C and a Side D. And with each side we wanted to have the elements – those elements of Sepultura that have existed in the past on each side."
"So the first side – Side A – were more geared up towards the thrash elements of Sepultura's past," he goes on to explain. "Side B has more of the tribal elements, a mixture of that kind of leading to Machine Messiah. Then Side C is more of the experimental and instrumental phases of Sepultura and then the D side is the more melodical side. So that was the idea that we had in mind, all leading to the idea that Andreas Kisser our guitarist had because he came up with the title Quadra which is Portuguese for 'the playing field that has four sides' and then within this playing field you have rules, so Quadra is kind of what each person is born into, so it is a metaphor for the various parts of the world that people are born into, and the laws that you abide to or don't. And of course there are repercussions for that. Then of course there are people that are struggling to get out of their quadra as well. "
With that framework already in mind when the band went in to work on the album they also discovered that the term 'quadra' also had a lot deeper meaning for Sepultura as well. "We are a four piece," says Green thinking for a moment. "So the number four has a deep meaning for us. We were also reading a book about taking the four elements of the Arts – namely arithmetic, geometry, music and astrology. And then there is numerology in which the number four is significant because when that number is manifested a lot of powerful things are happening in the moment, and that is how we felt as a band. When the four of us are together on stage there is a moment that is happening that is very powerful."
"That also happens for us in the studio," he admits again after thinking for a moment. So we went in that direction from the very beginning before anything was even written and we were able to have a lot of time to work on the album. We made sure that we had that time by not doing a lot of festival tours like we normally do in the summer and we became really comfortable in the writing process which really helped in the creation of this album."
For Sepultura fans out there Quadra is a very special album indeed as it captures the true sound of the band in a way that many haven't heard before. Green tells us that some versions of the album also feature the Endurance documentary that he band worked on as well.
"You can actually grab a copy that has the Endurance documentary of Sepultura as well," he explains. "It has been out on Netflix in Latin American for awhile now but now it is great because it will be obtainable for everyone when they buy the album. I think it is with the Deluxe version of the album, so we are really excited about that. Check it out and check us out when we are in town."
And for the hardcore Sepultura out there a little birdy called Derrick Green assured us they hope to be hitting all the Aussie towns in 2021.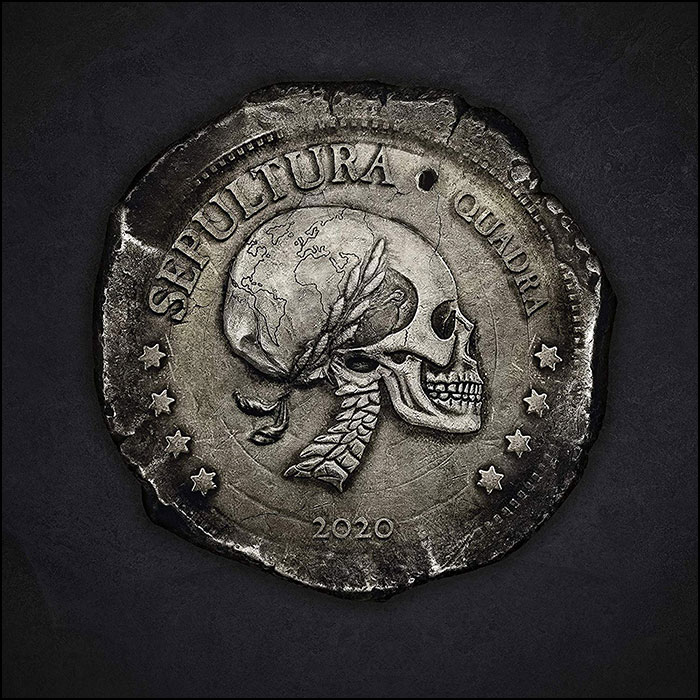 Quadra is out now through Nuclear Blast.